Full of beauty and brawn, Pebble Beach Golf Links is quite possibly the most stunning and intimidating golf course in the world. Aside from its rugged coastline, beachside cliffs and incredible views of Carmel Bay and the mountains, it is five-time host of the U.S. Open Championship. In fact, the course will celebrates its 100th anniversary June 2019, and become the first course in 50 years to host the U.S. Open for a sixth time. It is an iconic championship setting and venue.
"You just don't get many opportunities to put a golf course on such a marvelous piece of property. Aside from aesthetics, it's a great test of golf. It's a wonderful, thinking man's golf course. It forces you to use your head and tests your composure." – Jack Nicklaus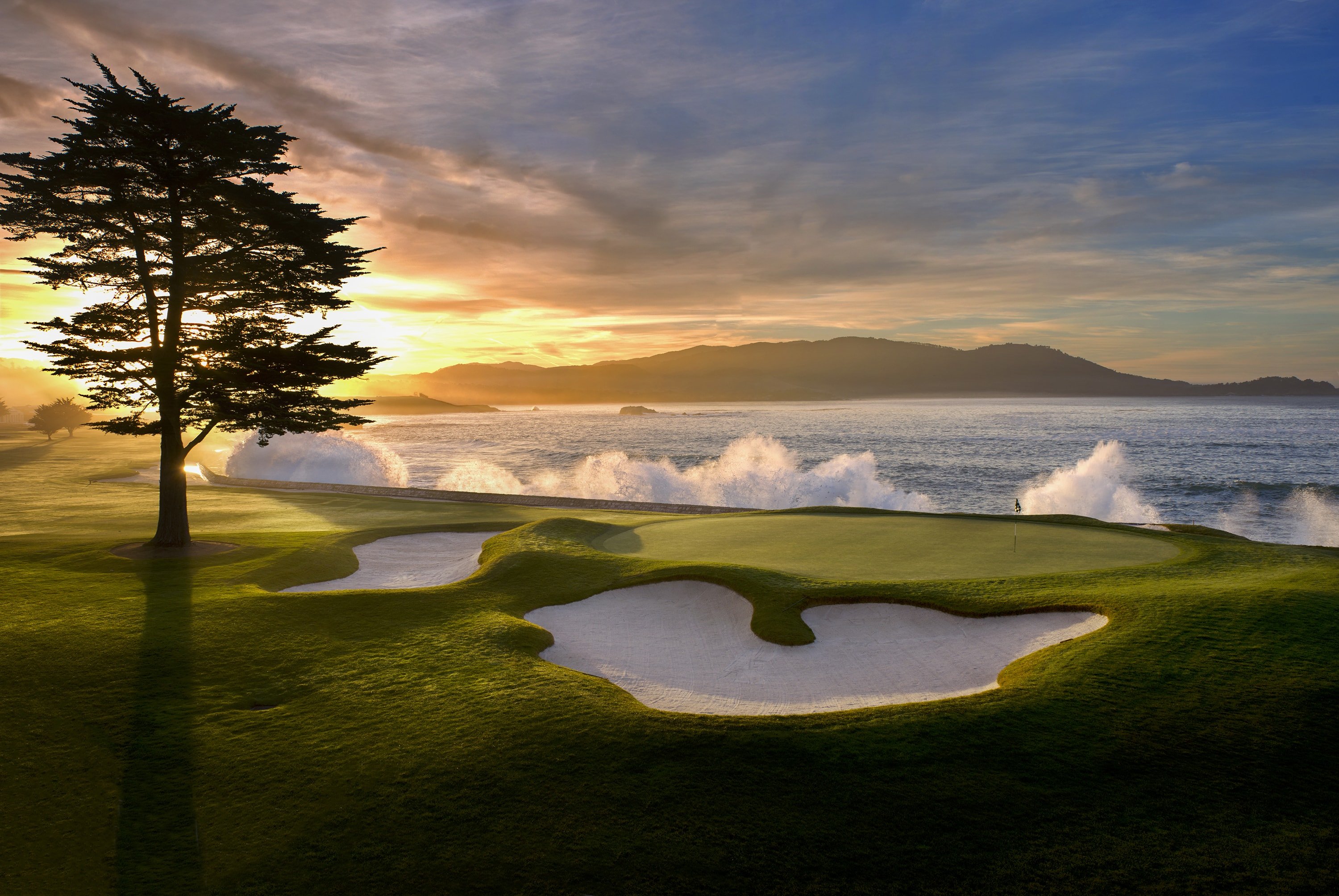 The History
What began as a resort hotel—the Hotel del Monte in Monterey, California, which opened on June 10, 1880—saw the addition of Pebble Beach Golf Links almost 30 years later in 1919. Designed by Jack Neville and Douglas Grant, the course opened on February 22 that year. Since that time, several architects extensively revised it throughout its almost 100-year existence. They've included Alistair Mackenzie and Robert Hunter (1927), H. Chandler Egan (1928) and Jack Nicklaus (who created the new fifth hole, in 1998). The Hotel del Monte closed its doors in 1942; however, the course remained.
In the early 1990s, Pebble Beach Golf Links was purchased by a conglomerate of Japanese investors during the upswing of foreign investments in American properties. To darken the history, controversy stirred when it was discovered an investor had suspected ties to organized crime in Japan. Following that, it was bought by another group of Japanese investors before being sold to its current owners, the Pebble Beach Company
The Tournaments
In 1926, Pebble Beach Golf Links played host to its first professional tournament: the Monterey Peninsula Open. With a purse of $5,000, Harry "Lighthorse" Cooper of Texas beat out the competition with a 72-hole score of 293 (+5)
Pebble Beach hosted its first major golf tournament in 1929, the U.S. Amateur Championship. Harrison R. Johnston of Minnesota took home the trophy, just beating out the very famous Bobby Jones, who tied for medalist honors.
Then came the "Clam Bake." In 1947, Pebble Beach hosted the then-named Bing Crosby National Pro-Am tournament, now known as the AT&T Pebble Beach Pro-Am. Nicknamed the Clam Bake, this tournament is held annually – most often in February.
Each year in late summer, Pebble Beach Golf Links also plays host to the Champions Tour First Tee Open in conjunction with the Poppy Hills Golf Course. Over the years, it has also played host to the California Open, Weathervane Women's Open, PGA Championship, Nabisco Championships of Golf, TaylorMade Pebble Beach Invitational, and so many more tournaments.
One thing to note… if it's on your bucket list of golf course to play, start saving now. One round of play on this public golf course starts at over $500. Cha-ching