Tradition stands proudly at St Andrews Links. Known as both the "Home of Golf" and the "Birthplace of Golf," St Andrews Links is the oldest golf course in the world. Located in the town of St Andrews, Fife, Scotland, players have been hitting the links there since the 15th century.
Today, it houses seven golf courses: the Balgove, Castle, Eden, Jubilee, Strathtyrum, New, and the Old Course at St Andrews—the latter being the oldest and most famous of the courses. Today, St Andrews Links is still considered a very traditional golf course.
The History
Dating back to 1552, when the area was established as a rabbit warren, Archbishop John Hamilton of St Andrews was given a charter to allow the townspeople to use the grounds to play golf. Two years later, the Society of St Andrews Golfers was formed (fun fact – this was the precursor to the Royal and Ancient, which today governs all of golf outside of the US and Mexico).
Fast forward 200 years. The Old Course, which consisted of 22 holes (11 out, 11 back), was apparently not player-friendly. It was decided several holes were too short and they should be combined to make longer holes. As such, this dropped the number of holes played per round from 22 to 18 and, you guessed it, a tradition was born. To this day, an 18-hole round is the standard round of golf all over the world.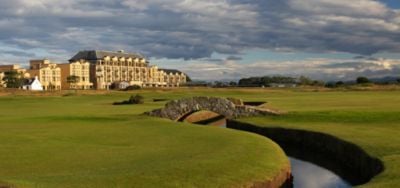 Play a Round
Most assume St Andrews Links to be a super-exclusive, private golf course. Not true… depending on the course you want to play, you can call ahead, book online, or email for reservations. In town for the day and want to play a quick round? St Andrews Links has one course where you can do just that – the nine-hole Balgove Course is the only course that cannot be booked in advance; it's a show-up-and-play kind of course.
Now, if you want to play the Old Course… it's a process. To play the Old Course, you have to apply for it—a year ahead of time. Each August, there is a two- to three-week window that begins late in the month and runs through mid-September. During this window, tee times are allocated lottery-style, with winners receiving notification sometime in October. Like we said… it's a process. But one that's so very worth it.