Here at Hurricane Golf we're excited to announce a unique opportunity for golfers looking for clubs personalized to their game. Hurricane Golf is now able to custom build discount Adams hybrids and iron sets to your specifications!!
Each golf swing is as individual as each golfer, and while buying clubs off the rack will work for some, most golfers need clubs tailored to meet their specific needs. A taller golfer at 6'3" and a shorter golfer 5'7" shouldn't be expected to use the same club and still achieve optimal results. It makes an already difficult game harder using equipment that doesn't suit you. In the past, in order to get this level of customization golfers used to have to be willing to spend a lot of time searching for the right clubs and money in order to get them. But because of our proud relationship with Adams Golf, we were able to acquire individual components from Adams Golf, assemble them here, and pass those savings on to you.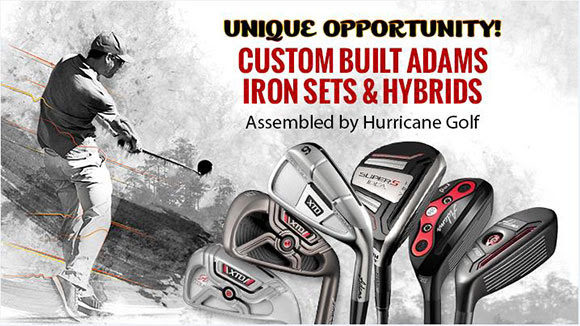 What makes this deal even more incredible, is the quality of styles of Adams hybrids, iron sets, and shafts we were able to attain. The models of Adams hybrids that we are offering to be custom built are the Red, PRO, Pro Mini, Idea Super S, & Pro DHY. Shaft options include Matrix Altus HX3 White Tie (regular flex), Mitsubishi Diamana 82 D+ (stiff & regular flex), Matrix Kujoh 75 (stiff & regular flex), & Aldila Rip Tour 80 (stiff flex). In iron set models we're offering XTD Forged, the original XTD, New Idea, & the Limited Edition XTD Tour. Shaft options for iron sets vary by set, depending on whether or not the head requires a parallel or taper tip shaft. The XTD Forged & Limited Edition XTD Tour will come with Project X steel shafts (multiple flexes available). The XTD and New Idea come with True Temper Dynalite 90 steel shafts (regular & stiff flex).
So what are you waiting for? Shop Hurricane Golf now and get your custom built Adams clubs today!!
CLICK HERE TO START SHOPPING IMMEDIATELY!!
http://www.hurricanegolf.com/catalogsearch/result/?q=custom%20built