Home to the PGA Tour headquarters and host of THE PLAYERS Championship—the PGA Tour's signature golf event held each year in May—the Tournament Players Club (TPC) Sawgrass is the club that almost wasn't…
The History
From 1977-1981, the Tournament Players Championship was played at Sawgrass Country Club in Ponte Vedra Beach, Florida. Around the same time, then-PGA TOUR Commissioner Deane Beman had a dream to create a new host site for THE PLAYERS Championship—and he wanted that host site to be Sawgrass Country Club. However, the owners did not want to sell their golf course. They even bet him that he would never get financing or approval from the PGA TOUR Policy Board to build this new course.
Beman was determined to keep THE PLAYERS Championship in Ponte Vedra Beach and in no time at all, had both approval and the funding to build it. The first of several Tournament Players Clubs to be built, it opened in the fall of 1980. Today, it is the home of the PGA Tour headquarters and hosts THE PLAYERS Championship each year.
Needless to say, the SCC owners lost that bet and today, a special plaque on display in the clubhouse marks that lost bet and showcases a $100 bill inscribed, "To Deane Beman, the man who did what we said couldn't be done. From Chuck Cobb and his associates at Arvida, who bet on the difficulty of the task, not on the capability of the man doing the task."
Also known as the "the Stadium Course at TPC Sawgrass," in 1982, TPC Sawgrass played host to its first PLAYERS Championship.
The Island Green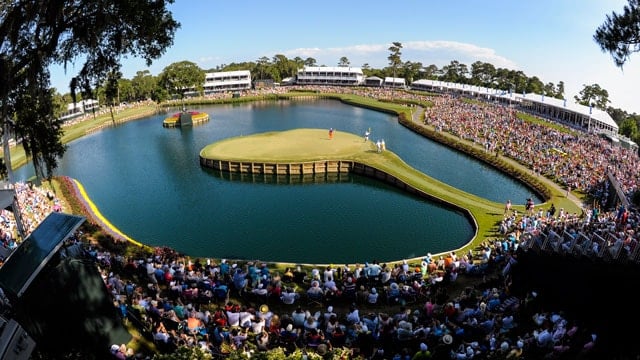 The famous, par-3 17th hole at TPC Sawgrass is one of golf's most fascinating and iconic holes. Surrounded by water – and that is an understatement – at 137 yards, it is one of golf's most treacherous holes. During the May 2007 Tournament Players Championship, a record fifty balls landed in the water, breaking the single-round tournament record of 45 set in 2000. Here's a fun fact: it is estimated that more than 100,000 golf balls take a dip in the Island Green waters each and every year.
The Tournament Players Championship
The Tournament Players Championship (THE PLAYERS Championship) is an annual golf tournament on the PGA Tour that began in 1974. Until 2017, it paid out the highest prize of any tournament in golf. To play in the tournament, a player must be a global Top 50 player. The winner receives:
Five-year exemption on the PGA Tour
Three-year invitation to the Masters Tournament
Three-year exemptions for the U.S. Open and The Open Championship
Exemption to the next three PGA Championship tournaments
600 FedEx Cup points (if they are a PGA Tour member)