In this Hurricane Golf Exclusive, our Jason Hiland got a chance to interview PGA Teaching Instructor Claude Harmon III. Son of Butch Harmon, Claude's spent his whole life in golf and has worked with mutiple PGA and European Tour stars, we were thrilled he took the time to answer a few questions.
Jason: It is safe to say your family has a rich heritage in the game of golf both in playing the game at the highest level and teaching the game at the highest level. How were you introduced to the game by your dad Butch and what are some of your fondest memories growing up and being around him and the game?
Claude: I have obviously been around the game of golf my entire life. Two weeks after I was born, I am told I was on Tour as my dad was playing the PGA Tour during the late 60's/early 70's. So at times, I feel like I have been out on Tour my whole life! I started helping my father and my Uncle's in golf schools and clinics around the age of 15 or 16. I would help set up the driving range for the golf schools and clinics and then would watch and observe the family teaching. My first real understanding of being a part of something special was in 1987. I went to the Masters and my grandfather took me for breakfast to the Champions locker room. It was an amazing experience sitting next to some of the great legends of the game. I met Jack, Arnold, Gary Player and Seve for the first time.
Jason: What life lessons and professional insight did you gain while traveling the European Tour and teaching on that Tour?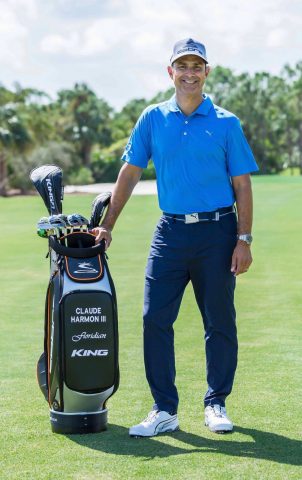 Claude: I moved to London at the end of 2001 and started working and traveling on the European Tour. At the time I was working with Darren Clarke and Adam Scott. I went on to work with Trevor Immelman and Graeme McDowell. It was an amazing experience and I am very proud to have been a part of the early part of the career of the those players. Traveling the world, experiencing so many different places and cultures played a huge part in shaping my life and my career. And I consider myself lucky to have had all those amazing experiences.
Jason: What is your current bag setup and what new COBRA products have you changed into for 2017 and what results are you seeing?
Claude: I currently play the King Forged Tour Irons and the F7+ driver. I have also tested the King Forged ONE Length Irons as well. ONE Length is a very cool idea and it has been an interesting test process with my students whole have tried them. Once the initial "shock factor" wears off that all the clubs are the length of a 7iron, I feel most players are pleasantly surprised as to how easy they are to hit and control. With beginning golfers the process is very easy as the setup is consistent throughout the bag due to the constant length.
Jason: As being one of the top teaching professionals in the game today, what does that experience bring to Cobra Golf when you both are working together on product development and designs?
Claude: For me becoming a part of the Cobra family feels like coming home. My dad was part of the Cobra family in the 90's so for me to now be able to do the same is very special for me.