Last Sunday's closing round of The Players Championship at TPC Sawgrass gave us one of the best finishes in the history of the The Players. We saw big names making a Sunday charge up the leaderboard, young upstarts trying to make a name with a big PGA Tour win, and yet another playoff. But it wasn't all good from TPC Sawgrass. It was hard to ignore the incessant heckling of Sergio Garcia picked up by the on course microphones. This is a tough one for me to work through, on the one hand I'm a freedom loving American and I champion your right to say whatever you want whenever you want to, which includes yelling idiotic phrases in public. But on the other hand, I would consider myself a golf traditionalist. The golf course is place of respect and integrity, and even if you loath your opponent, you should at least be expected to be polite to him. This goes for everyone on the course. Players, fans, and caddies should all be expected to uphold this standard.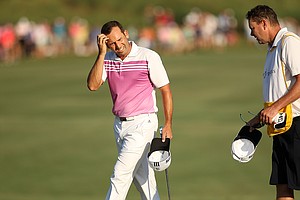 I think what bothered me the most about the heckling was when the idiots in the stands decided to do it (the hecklers from here out will be referred to as "the idiots" or "those idiots", hope no one minds). Sergio was forced to back off his tee shot on the ever treacherous par 3 17th because of all the commotion. I'm not sure if there is any other shot on tour that requires more focus and determination than that tee shot. Even for someone like Sergio, who has been in so many close finishes and pressure situations in golf, the nerves had to be mounting. What helps to calm those nerves for any golfer is your routine, it's your security blanket, which those idiots robbed of Sergio. I'm not the biggest Sergio fan myself, but when he backed off that ball and reset himself because he had to, I never wanted anyone to stick it more. The fact that he landed safely on the green and drained that 40 footer made it so much more satisfying. I just wanted to jump through the TV and tell those idiots to go shove it. The gallery needs to be a part of the game, it's what gives a tournament its atmosphere and intensity. But the fans should never affect a shot. Just because we have the right as Americans to say whatever we want whenever we want to, doesn't mean we should exercise that right it in the middle of someone's backswing.
I suppose the timing was the biggest issue with me, but I also wasn't too thrilled with the choice of words from those idiots either. The sound coming to the microphone was sort of muffled, but it sure did sound like what was being shouted was profanity. I like swearing as much as the next guy. It's fun. That's it. It is just fun to use profane language. But it has to be situation appropriate. When it's you and your buddies and you've spent all day drinking Shandy's becoming one with a bar stool at your favorite watering hole watching sports, go nuts, let it fly. The only person you're making an idiot of is yourself, which, as an American, you are entitled to do (I know because I exercise this right from time to time). But when you buy that ticket to stand on the rope line, especially at a place with all pomp and circumstance as TPC Sawgrass, more is expected of you and your choice of words, and it should be. The course and the players deserve that respect. I'm not saying don't use profanity ever again, it's too much fun to just quit using it. What I am saying is let's keep it out of the gallery and not directed at the players, our game is better than that.
Let me know what you think about the heckling that Sergio endured at Sawgrass. Maybe you have a better take on this than I do. Post in the comment section or to facebook and give me your two cents.