Hurricane Golf's Jason Hiland had a chance to speak with Jesper Parnevik at the 2016 PGA Show. He is one of our all time favorite golfers.

Hurricane Golf: Here with Jesper Parnevik at the PGA Show and we have some questions for him about equipment and stuff he is doing on the Champions Tour next year. First off, equipment changes for 2016. What's going in the bag, and what kind of performance changes are you seeing from it?

Jesper Parnevik: Well I'm actually switching everything over to the King Cobra line. I had the Fly-Z in the bag last year, but the new driver (King Cobra) is a little bit hotter. I mean I was hitting the Fly-Z driver straight last year, but I'm excited to move over to the King Cobra.

HG: Are you seeing more of a smash factor? Higher launch, less spin?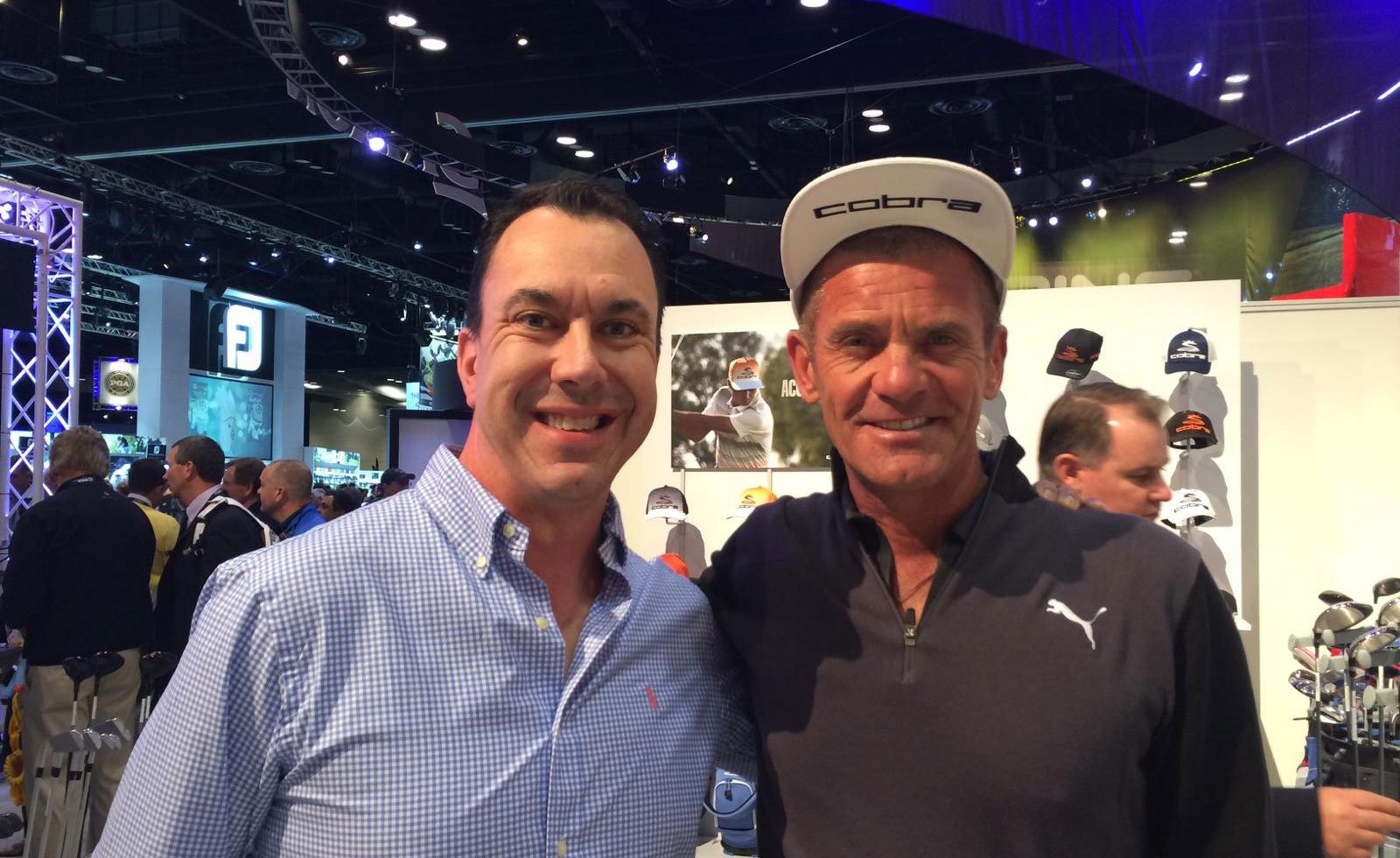 JP: There's a little bit less spin. You know, it varies from year to year what the manufacturer wants. I mean, there were a few years where everyone was down to 6 or 7 (degrees), but we know now that it is better to be around 10 or 11. I'm actually playing mine at 11 right now.

HG: How about the shaft? Same as last year? Or did you have to change it out with the attributes of the new head?

JP: Well a luxury with the new King Cobra is that I can actually put a little bit softer shaft in it and get some more speed. I had always played very strong-tipped shafts, because I spin the ball a lot. But with the new driver, the ball flight is a little bit down and there is much less spin.

HG: How's the workability? Does the ball have a tendency to just go straight?

JP: It goes straighter, which takes a little getting used to for me. I like to work the ball a lot in both directions. I'm still trying out a number of shafts and lofts to find what will make it perfect for me.

HG: On the irons, did you switch to the King blades as well? What's your iron set-up look like this year?

JP: No, I actually went with the bigger ones. I loved the blades last year, but I was hitting it almost too far, which is not a normal problem to have. What I love about the new King sets, is that the stepping between each club is consistent throughout. Throughout my career, over the last 20 years, my problem has always been de-lofting the short irons and hitting it as far as I want. Now I can keep the stepping even all the way through the 3-iron.

HG: And for a tour player to know how far that iron is going to go is critical. You don't want it to just go farther, you want to have that controllable distance.

JP: Oh, yeah. This year I took some off of the shorter irons to get those distances a little bit tighter. From about a 60-degree wedge all the way up to an 8-iron. I still want to get everything out of the long irons, but I want to sort of shrink up the short irons and tighten the gaps between those.

HG: Anything new in the wedge category for you?

JP: I know Ben, the wedge grinder over there, has some new stuff coming out, which I'm really excited about.

HG: And you have those custom grinded to your specs?

JP: I actually play a pretty stock wedge. But I do need a little bit more bounce on them. I have a very steep swing and take the biggest divots on the planet, so I need a little more bounce than the average player. Cobras actually have a very good bounce for me, so not a lot of modifications.

HG: Last part of the set, now. Fairways and Hybrids. How many hybrids do you have in the bag this season?

JP: I've never really been a hybrid kind of guy. Never had one in my career. But I'm trying a 3-hybrid now. I've always loved the irons. I used to have a 7-wood for a while, but the way I'm hitting these irons, I love it. The 3-iron is a perfect gap to my 3-wood.

HG: So, how many events are we going to see you in on the Champions Tour next year?

JP: I'm going to try to play a full schedule this year. I got started a little late last year and played mostly in the summertime, but I'm going to play full schedule this year.

HG: Is it so much fun to keep playing alongside the guys you've played with your entire career?

JP: It is so much more fun than I actually expected. I had heard so much about it, but it is still so competitive and the level of golf is very high. There is a little bit different atmosphere, a bit more relaxed. And it's kind of a fun generation out there. You know, these guys are jokers. We're kidding around on the course, having a lot of fun. I love it.

HG: And the interaction with the crowd has to be fun on the Champions Tour as well. I mean it's a little less informal, in the sense that the crowd can get a little closer to you guys, really watch you play.

JP: And that's the amazing thing about golf, you know? It's the only sport where you can be right out there with the players. Not a lot of sports where you can watch that closely. You can watch on TV, but you can also come out and watch us live. 55 (years old) and still playing really well.

HG: You can really see that the guys haven't lost much with the scores you guys are posting on those golf courses.

JP: Yeah. Bernhard Langer for example. He is more dedicated than he has ever been. I mean, he spends probably 10-12 hours on the course every day.

HG: Jesper, I really want to thank you for taking the time to talk to us today, and we really look forward to seeing you out there!

JP: Thanks a lot, Jason.